Internationally acclaimed conductor Mark Laycock was Music Director of the Princeton Symphony Orchestra for more than 20 years, and has appeared with orchestras of London, Paris, Moscow, Kiev, Montréal, Philadelphia, Bogota, Mexico City, Seoul, and Taipei, among others.  As a published composer, his works have been performed by the Philadelphia Orchestra, Buffalo Philharmonic Orchestra, New Jersey Symphony Orchestra, Alabama Symphony Orchestra, and the Berliner Symphoniker, among others.
https://www.polarisartists.at/deutsch/k%C3%BCnstler-innen/mark-laycock/
PBS Launches Nationwide Telecasts of "Ode to Joy: Beethoven's Symphony No.9"
Narrated by John Lithgow, and featuring
Mark Laycock and the WienerKammerOrchester's performance with the Westminster Symphonic Choir filmed for
PBS' "Great Performances" Series
Check with your local PBS affiliate for airtimes
More information on "Ode to Joy" (including additional video material and bios on all artists) can be found here by clicking on the red link for:
PBS page "Ode to Joy"
Mark Laycock
"Die wunderbaren Wuppertaler Sinfoniker unter der begnadeten Leitung des extra eingeflogenen grandiosen amerikanischen Dirigenten Mark Laycock, dieses mutige Unterfangen wurde für mich völlig verblüffend vom fachkundigen Wuppertaler Publikum bejubelt als hätte man den alten Karajan wieder neu geklont präsentiert…"
"The wonderful Wuppertal Symphony Orchestra under the direction of the gifted flown in grandiose American conductor Mark Laycock, was utterly astoundingly cheered after this bold undertaking by a knowledgeable Wuppertal audience as if you had the old Karajan again presented newly cloned…"
Der OpernFreund, March 2015, Deutschland
"Not enough can be said about conductor Mark Laycock's sensitive, collaborative accompaniment that made the Mozart concerto feel like chamber music, and allowed Shostakovich to sound downright improvisational, even in its bratty moments."
The Philadelphia Inquirer, July 19, 2014
Philadelphia Orchestra Soars in Princeton
By David Patrick Stearns, Inquirer Music Critic
"Under guest conductor Mark Laycock, the Wednesday concert at Richardson Auditorium went well over the two hours and was dense with Schumann, Brahms, Prokofiev, and others.  Even when played at some exhilaratingly brisk tempos, the music kept everyone on edge in the best possible way in what was an extremely generous and highly successful concert – in live, immediate acoustics that were flattering to the Philadelphia Sound.
The orchestra's long absence isn't surprising.  Princeton has a healthy orchestral life of its own, thanks partly to Laycock's years with what is now the Princeton Symphony Orchestra…This particular concert was the Sixth Annual Midsummer Celebration funded by local philanthropists William and Judith Scheide. Now based in Europe (the Zurich/Vienna nexus), the dignified, almost courtly Laycock is the Scheides' conductor of choice.
From almost the first notes, Laycock established that this would be no mere run-through.  Prokofiev's Classical Symphony, which often seems to play itself, had intriguingly halting tempos in the second movement that put it in the world of the composer's much later (and deeply satirical) Lieutenant Kijé.
Weber's Oberon Overture felt almost Viennese in its tempo flexibility.  Each section of Brahms' Haydn Variations was its own world.  And that was only the first half.
Such strong-monded interpretations felt particularly brave in light of the concert's limited rehearsal.  Laycock has conducted this orchestra often, but not for 19 years.  On to the second half…
Schumann's Symphony No.1 ("Spring") can seem repetitive and garrulous in less sympathetic circumstances but certainly wasn't in Wednesday's brisk, tightly controlled performance.  Such an approach might not be possible with a lesser orchestra, but this one has power in reserve.  When the scherzo couldn't go any faster, the middle section put the pedal to the metal.  Grand conclusions went even grander – often with an unexpected slowing of the tempo.
After the symphony's breathless conclusion, Laycock clearly was up to something – Glinka's Ruslan and Ludmilla Overture played as an encore at a speed that outstripped Schumann.  Speed, alone, is not an artistic statement.  Here, tempos released the music's inner energy."
The Philadelphia Inquirer, July 20, 2013

"The English Chamber Orchestra, under the vibrant direction of Maestro Mark Laycock, began the program with Sir Arnold Bax' "Dance in the Sunlight," a lively, romantic and complex score. The ever renowned Ludwig van Beethoven Symphony No. 5 in C minor, Op 67 completed the inspiring program. Through his mastery of the composition, Maestro Laycock, fluidly, energetically and skillfully inspired the English Chamber Orchestra to perform at their highest level."
The Princeton Packet, January 21, 2013

"It is a pleasure for me to highly recommend Mark as a professional musician, who has a very broad spectrum of abilities and has always shown to be the perfect conductor for all kinds of repertoire. Apart from his professionalism concerning the musician Mark Laycock, he is an outstandingly, friendly and easy-to-work-with person who is always welcome in the Vienna Chamber Orchestra."
Christian Buchmann, Managing Director , Wiener KammerOrchester

"An extraordinary conductor: hugely gifted, a marvelous person, and a first class conductor"
John Nelson, Directeur Musicale Honoraire, Ensemble Orchestral de Paris
"I consider Mark Laycock to be a friend and very talented colleague with a great future, and I warmly recommend him to you." 
Charles Dutoit
"Mark Laycock is a passionate and inspiring conductor who combines great sensitivity with the virtuosic ability to bring out the very best in an orchestra. His performances are energetic, creative, beautifully conceived and dedicated to expressing the highest musical ideals. It is a joy to perform with him!"
Sharon Isbin
"The technique of conducting appeared to be his completely"
Daily Telegraph, London
"The young conductor showed his own gifts with every nuance. Here, indeed, is a serious musical talent. With each gesture Laycock is dynamic, subtle, elegant and precise in shaping and inspiring the exact orchestral sound."
La Presse (Montréal)
"Conducted by Mark Laycock, it featured a rare joint performance of the two choral works Mendelssohn composed for a festival in Leipzig, Germany, in 1840, commemorating the 400th anniversary of Gutenberg's epoch-making printing press. The "Festgesang" ("Festive Hymn") and the Symphony No. 2, "Lobgesang" ("Hymn of Praise"), both rousing pieces, were played back to back, on either side of the scheduled intermission, and the effect was exhilarating.  Beyond the galvanizing beauty of the music, the performance took on a special poignancy, even a quiet majesty."
New York Times

"The opera was expertly conducted by the talented Mark Laycock who used tempos that were just right, not too fast or too slow, so that when the classic Rossini crescendos took place, there was plenty of room to speed things up. His conducting was so secure and the preparation so complete that even in the Dress Rehearsal and at this Prima, the singers were barely looking at him, and he gave such a solid foundation that the cast had the freedom to ornament the opera in what was perhaps the most florid performance I've heard of it, from top to bottom."
Opera-L (Barber of Seville)

"Conductor Mark Laycock — whose control of his forces was evident from the clean first phrases of the overture, the tricky tempo changes of which he negotiated skillfully — laudably gave the score note-complete: cabalettas had their repeats and some clarifying recitative usually cut was restored."
Opera News (Don Pasquale)
"…a vibrant, expressive performance [of Don Pasquale] by conductor Mark Laycock …Throughout, the orchestra proved a strong partner for the singers, with Laycock drawing a performance that bubbled with excitement and sang with lavish richness."
Newark Star-Ledger
"Mark Laycock is an amazing conductor with a distinguished international career, who inspired our 150 country-wide selected students orchestra to perform at the highest artistic level at our national theater, the Palace of Fine Arts in Mexico City. Wise and savvy, Mark had high expectations, and at the same time was gentle and encouraging to the orchestra members. The participating students were selected from 80 youth orchestras from the national network of 124 youth orchestras of El Sistema. After an exhilarating standing ovation, Mark finished to conquer the audience with an emotional rendition of Blas Galindo's celebrated Sones de Mariachi, turning the theater in a pandemonium of awe and excitement. Mark was passionate to share with all these young person's his knowledge and transformed this eclectic ensemble from 80 different youth orchestras in a top class, wonderful, disciplined and cohesive real symphony orchestra. A Maestro of Maestros!!"
Dr. Armando Torres-Chibrás
National Coordinator of Orchestras at
Sistema Nacional de Fomento Musical of Mexico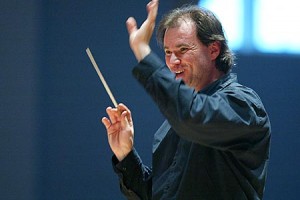 Mark Laycock is a musician and conductor of the highest order. Since making his conducting debut with The Philadelphia Orchestra at age 21, Maestro Laycock has established a reputation without peer for artistic excellence and critical acclaim while building a vast repertoire through the conducting of more than 2,000 works. His unique experience has been confirmed overwhelmingly on all levels, from his appearances with major orchestras in the United States and Europe to his ability to communicate and connect with young musicians. Affable and secure, Maestro Mark Laycock possesses a rare blend of old-world knowledge and charm combined with new-world realism and understanding. Maestro Laycock brings to the podium an integrity and ease of confidence without airs, fostering a rehearsal environment that allows musicians to produce music of the finest quality in a relaxed and enjoyable atmosphere, while maintaining the highest of artistic standards that remain true to the composer's intent.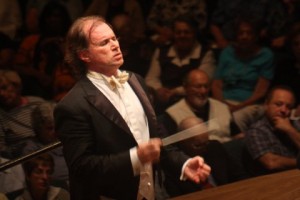 "An indefinable quality among great conductors is that rare ability, not related to any interpretive style, to somehow fuse all elements of a performance into a greater entity with a palpable energy of its own existence. This is a quality that is strikingly evident both intellectually and emotionally in each of Mark Laycock's performances that I have ever witnessed. When Mark Laycock conducts, everything becomes one: the conductor, the orchestra, the music and the listening public all become part of the music, all become a unified part of something greater than themselves.
Mark Laycock brings out of the musicians exactly what he wants the audience to hear through precise and incisive conducting that never loses musical expression. The result is often a revelation even for the most seasoned and knowledgeable concert listener. He seems to find in the score things that other conductors have not, and he does this in a way that never sounds contrived. The most notable example to me is a remarkable Beethoven Eroica that I heard him conduct with the Vienna Chamber Orchestra. I thought I knew the Eroica inside out, upside down, and backwards, and yet Mark Laycock found and brought out details that I had never heard before; that performance stands out in my mind as one of the best I have ever heard, live or on recordings, of any Beethoven symphony.
No matter what work Mark Laycock is conducting, as a listener I get the sense in his concerts that I am hearing exactly what that composer wanted me to hear and experience.  His interpretations reflect a particular perceptiveness when it comes to the analysis and communication of scores, and it is clear from the facial expressions and the body language of the musicians that Mark is not a martinet and that all of them truly enjoy making music with him. No matter what work Mark Laycock is conducting, as a listener I get the sense in his concerts that I am hearing exactly what that composer wanted me to hear and experience.
I have found that many modern conductors are not intensely involved in what they conduct. Toscanini always conducted with intensity, as did Klemperer, for example. Mark Laycock has always been committed completely to every work I have ever heard him conduct, and it is thrilling to hear every one of his performances. They are white hot with passion. In that regard, he reminds me so much of Pablo Casals, for whom music was a necessity of life to be embraced and celebrated with complete joy and conviction. Mark Laycock's performances are intense, passionate, and charismatic."
Teri Noel Towe, Classical Music Radio Host, WPRB103.3 FM